Ants: coming to a restaurant near you
By Jamie Morton                                                                 October 6, 2016.
We spend much of summer trying to keep ants out of our food; yet they might be what's missing from it, say a pair of young Kiwi entrepreneurs.
With their start-up company Anteater, Canterbury University students Peter Randrup and Bex De Prospo are trying to drive in New Zealand what's become an emerging industry in Western countries, called "entomophagy", or insect consumption.
Anteater, a University of Canterbury Centre for Entrepreneurship (UCE) student company that just scooped the university's 85K Challenge, is now working with high-end food producers to make dishes from insects to be served in restaurants throughout the country.
Their product range offers wild ants and huhu grubs, harvested in Canterbury, locusts farmed in Otago and cricket powder imported from Canada.
"We view this as a first step toward mainstreaming these products as a viable, sustainable alternative to factory-farmed meat," said Randrup, an insect biology student searching for more efficient, sustainable ways to produce high-quality protein sources.
"My favourite statistic is that if you swapped out just one serving of conventional protein for insect protein once a week, over the course of a year you would free up 100 to 150 square metres of land somewhere on the planet."
Randrup, a vegetarian, got the idea after reading an article about entomophagy and then pitched the idea at an entrepreneurial event at the university in April.
His now-business partner, De Prospo, initially reacted: "Bugs, really?"
But, seeing the potential, jumped on board and helped grow the business, also losing her taste for meat in the process.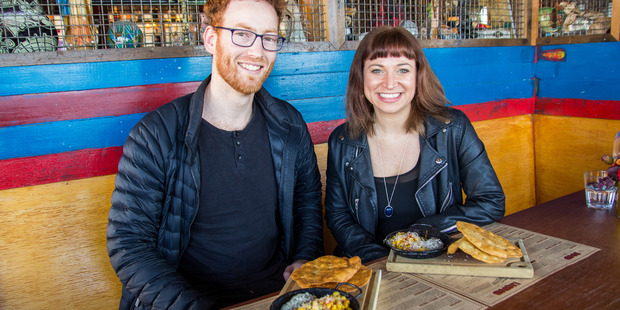 She's now focused on finding out how to best use the business model to help feed people around the world, and hopes to adapt existing insect-farming models to produce kitset farms which can be sent to residents of impoverished regions.
"The statistics on how much grain is produced to feed livestock, while the human population in many of these places are left starving, are absolutely staggering."
People with a taste for bugs can find their offerings at Roots Restaurant in Lyttelton, Vault 21 in Dunedin, Antoine's Restaurant in Auckland and Mexico restaurants in Britomart, Takapuna, Ponsonby, Ellerslie, Hamilton, Wellington and Christchurch.